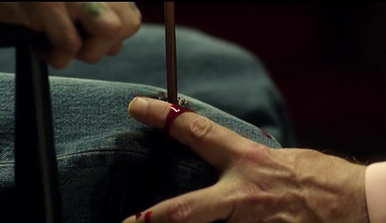 "Acupuncture" is a torture technique that Crow uses on Fish.
Definition
A system of complementary medicine that involves pricking the skin or tissues with needles, used to alleviate pain and to treat various physical, mental, and emotional conditions. Originating in ancient China, acupuncture is now widely practiced in the West.
Early History
Acupuncture has a clearly recorded history of about 2,000 years, but some authorities claim that it has been practiced in China for some 4,000 years. The Chinese believe that the practice of acupuncture began during the Stone Age when stone knives or sharp edged tools, described by the character 'Bian', were used to puncture and drain abscesses. In fact the Chinese character 'Bian' means the 'use of a sharp edged stone to treat disease', and the modern Chinese character 'Bi', representing a disease of pain, is almost certainly derived from the use of 'Bian stones' for the treatment of painful complaints.
The origin of Chinese medicine is a fascinating story and acupuncture represents only one facet of their medical system. The first recorded attempt at conceptualizing and treating disease dates back to about 1500 BC during the Shang dynasty. Tortoise shells with inscriptions dating from that time have been found, and it is thought that these were used for divination in the art of healing. The philosophical basis of much of the very early Chinese medicine seems to have been to seek harmony between the living and their dead ancestors, and the good and evil spirits that inhabited the earth.
Crow uses a hammer to insert the a chopstick into Fish's right leg.