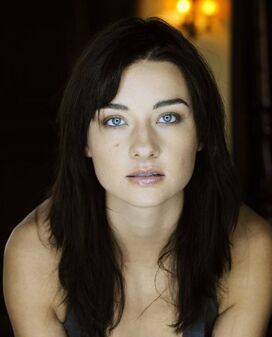 Cortney Palm
portrayed
Sushi Girl
in the
Sushi Girl film
.
Biography
Palm began her acting career with a lead role as Ghost Girl, 2006 Direct-to-video production The Woodland Haunting 2 by Dennis Baker. This role earned her an unnamed extras role as a party guest in Greg Mottola's comedy Superbad one. Having only played two years in independent films, Palm did not return until 2009 back before the camera larger productions and turned with Dana Schroeder horror thriller Lost Soul. This was followed by small roles in Fragile Hearts (2010), Sunday Morning High (2009) and Where's Tuesday Monday?. In 2010 she then got the role in Tim Burton's fantasy film Alice in Wonderland as Red Queens Court, Palm alternating with Jessica Starr Folger played. 2011 she was casted by core Saxton for the lead role of his thriller Sushi Girl end of April 2012 Palm got a role in the 2013 calling at Silent Night,. The directed by Steven C. Miller slasher film is the remake of the 1980 cult film Silent Night, Deadly Night.
Modelling
In addition to her acting career, she has a job as a model and was recently featured in the James magazines for Ash Gupta in front of the camera. She graced the cover together with Noah Hathaway for a promo action of the crime thriller Sushi Girl.
Selected Fimography
The Haymaker (2010)
Losing Ferguson (2011)
Silent Night (2012)
Sushi Girl (2012)
The Purge: Anarchy (2013)
Notes
Sources
Gallery
Ad blocker interference detected!
Wikia is a free-to-use site that makes money from advertising. We have a modified experience for viewers using ad blockers

Wikia is not accessible if you've made further modifications. Remove the custom ad blocker rule(s) and the page will load as expected.