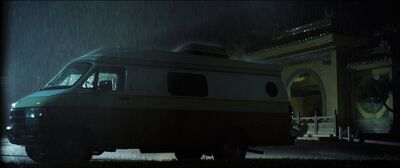 1994 Dodge Ram Van
is a vehicle seen in the
film
.
Overview
The Dodge B-Series was a full-size van marketed under the Dodge brand by the Chrysler Corporation (1971–1998) and later DaimlerChrysler (1998–2003). Starting in 1981, the B-Series was sold as the Dodge Ram Van; the passenger variant was known as the Dodge Ram Wagon and Plymouth Voyager.
DaimlerChrysler discontinued production of the Ram Van and Ram Wagon after more than 30 years of production following the 2003 model year, replacing them with the Dodge Sprinter. All Ram Vans and Wagons were built at the Pillette Road Truck Assembly plant in Windsor, Ontario, Canada, which has since been demolished.
Sushi Girl
This van is used by the detectives.
Sources
Ad blocker interference detected!
Wikia is a free-to-use site that makes money from advertising. We have a modified experience for viewers using ad blockers

Wikia is not accessible if you've made further modifications. Remove the custom ad blocker rule(s) and the page will load as expected.