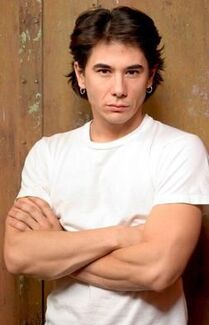 James Duval
portrayed
Francis
in
Sushi Girl
.
Biography
Born in Detroit, Michigan in 1972. He moved to Los Angeles, California in 1974 where his sister Terry Duval (his only sibling) was born. He attended Gladstone High School in Covina, California from 1986 to 1989 as well attending Mira Costa High School in Manhattan Beach, and Fair Valley in Covina. Although he was trained as a classical pianist as a child he eventually moved to the guitar. He used to play for "Antoneus Maximus & The Nuthouze Band" who had been playing gigs at local venues in Los Angeles. 2004 saw them working on their 1st album which included guest appearances by such luminaries as 'Apl.de.Ap', 'DjMotiv8' and 'Dante Santiago' from "Black Eyed Peas" as well as 'Kid' (Chris) from "Kid'N'Play". He practices/teaches Hatha Yoga in between films and now plays Guitar/Piano and sings in the band "Gene Wilder" with friends and fellow actors "Brian McGuire" and Brett Roberts".
Selected Filmography
Playback (2010)
Kaboom (2010)
Touchback (2012)
Sushi Girl (2012)
Look At Me (2013)
Blue Dream (2013)
Trivia
Is an avid practitioner of "Hatha Yoga". He also teaches Yoga at Earths Power Yoga studio, Los Angeles, CA in between films.
Is of mixed ethnic backgrounds (mother is Vietnamese-French, father is Irish-Native American Indian-French).
Sources
Gallery