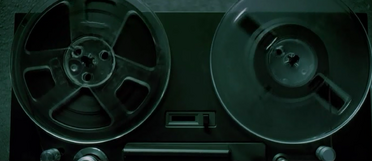 The reel-to-reel tape recorder is an item used in the film.
Sushi Girl
The tape recorder was used by the detectives who were listening in on the gang inside.
Reel-to-reel audio tape recording
Reel-to-reel or open-reel tape recording is the form of magnetic tape audio recording in which the recording medium is held on a reel, rather than being securely contained within a cassette.
In use, the supply reel or feed reel containing the tape is mounted on a spindle; the end of the tape is manually pulled out of the reel, threaded through mechanical guides and a tape head assembly, and attached by friction to the hub of a second, initially empty takeup reel.
Sources
Gallery